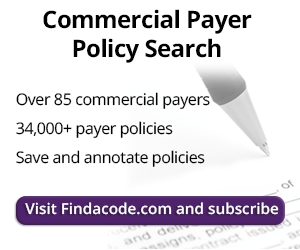 When Can You Bill Orthosis Components Separately?
July 9th, 2019 - Wyn Staheli, Director of Research
0 Votes -

Sign in

to vote or comment.
---
It can be confusing to determine if a component or a particular feature is considered an integral part of an orthosis or if you can ask for separate payment. Obviously, the best way to determine that is to follow the specific payer's guidelines. The problem is that many payers don't have really good guidelines or policies which make it easy to find that information so sometimes it comes down to trial and error.
The following tables come from Medicare LCD L33318 and include helpful coverage information about add on components for certain DME.
Table heading explanations:
Base Code: this refers to the main orthosis.
Add on (Payable): this column refers to other components/features which may be added to the base component which may be considered to be separately payable. However, that is not a guarantee of payment. Other rules such as determination of medical necessity also play a role.
Add on (not Payable): this is a non-exclusive list of components or features that may be incorporated into the base orthosis, but are not separately payable.
Table 1: Prefabricated Knee Orthosis
Table 2: Custom Fabricated Knee Orthosis
Base Code

Add on (Payable)

Add on (not Payable)

L1834
L2795
L2397, L2800
L1840
L2385, L2390, L2395, L2397, L2405, L2415, L2425, L2430, L2492, L2755, L2785, L2795
L1844
L2385, L2390, L2395, L2397, L2405, L2492, L2755, L2785

none

L1846
L2385, L2390, L2395, L2397, L2405, L2415, L2492, L2755, L2785, L2795, L2800
none
L1860

none

L2397
Keep in mind that technically, the above tables only apply to specific DME jurisdictions. However, it can provide some guidance and assistance as you are making coding decisions.
As a final reminder, if you know that an item will be not covered separately, be sure that the patient is informed. For Medicare, that means you will need to use an ABN.
###
Questions, comments?
If you have questions or comments about this article please contact us. Comments that provide additional related information may be added here by our Editors.
Latest articles: (any category)
To Our Codapedia Friends!
July 30th, 2020 - Christine Woolstenhulme, QCC, QMCS, CPC, CMRS
Codapedia friends, come and join us at Find-A-Code - a core product of innoviHealth! The information found on Codapedia comes from our sister company, Find-A-Code. If you do not already have a subscription with the greatest online coding encyclopedia, call us and get signed up today. We are offering a ...
OIG Report Highlights Need to Understand Guidelines
July 28th, 2020 - Wyn Staheli, Director of Research
A new OIG report once again highlights the necessity for organizations to fully understand requirements for reporting services and having proper documentation. The types of problems addressed in this report are ongoing issues for multiple types of services and specialties and for many different payers.
Office of Inspector General Says Medicare Advantage Organizations are Denying Services Inappropriately
July 21st, 2020 - Aimee Wilcox
We attended the recent virtual RISE National Conference and had the opportunity to listen to presenters share their knowledge about risk adjustment and HCC reporting and data validation. Among the presenters were representatives from the Office of Inspector General (OIG), who presented findings from encounter data from 2012-2016. They began ...
Use the Correct Diagnosis Codes and Revenue Codes to Get Paid for PAD Rehab
July 15th, 2020 - Christine Woolstenhulme, QCC, QMCS, CPC, CMRS
The initial treatment in rehabilitation for patients suffering from Intermittent Claudication (IC) is Supervised Exercise Therapy (SET) for Symptomatic Peripheral Artery Disease (PAD).  Rehabilitation using SET involves the use of intermittent walking exercise, which alternates periods of walking to moderate-to-maximum claudication, with rest.   When reporting 93668 for peripheral arterial disease rehabilitation the following ...
New Name Same Great Product! "HCC Plus"
July 14th, 2020 - Find-A-Code
Hello HCC Customers! We have made a change in name only to our HCC subscription. The new subscription is now called "HCC Plus". Keep in mind there have been no changes to the product. Using your subscription along with the risk adjustment calculator will ensure you stay current with...
Are NCCI Edits Just for Medicare?
July 14th, 2020 - Christine Woolstenhulme, QCC, QMCS, CPC, CMRS
The National Correct Coding Initiative (NCCI) edits were developed by CMS to help promote proper coding and control improper coding that leads to incorrect payments with part B claims. It is important to understand that NCCI edits do not include every possible code combination or every type of un-bundling combination. With that ...
Payment Adjustment Rules for Multiple Procedures and CCI Edits
July 9th, 2020 - Christine Woolstenhulme, QCC, QMCS, CPC, CMRS
Surgical and medical services often include work that is required to be done prior to a procedure and post-procedure. When there are multiple procedures done by the same physician, group, or another qualified healthcare professional on the same day, the pre and post work is only required once. Therefore, CMS ...