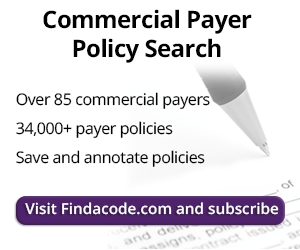 Q/A: Can I Bill a Review of X-Rays?
February 1st, 2019 - Wyn Staheli, Director of Research & Aimee Wilcox, CPMA, CCS-P, CMHP, CST, MA, MT
---
It is not unusual for a healthcare provider to review x-rays taken and professionally read by another entity. Questions arise regarding how to bill this second review. It is essential to keep in mind that the global (complete) service of taking an x-ray is composed of both a professional and technical component. The professional component includes reading the x-ray and creating the written report and the technical component is reported by the owner of the imaging equipment who also takes the image (x-ray).
In the hospital (facility) setting, usually a radiology group is contracted to read the image and produce a written report, adding modifier 26 to the CPT code for the service while the facility, who owns the larger equipment (eg, MRI, CT) that produces the image will report the code for the service with modifier TC.
Physician groups usually own lower cost imaging equipment (eg, x-ray ultrasound) than a facility and produce both the image and the report allowing them to bill globally for the service without any modifiers.
As a general rule, payers only pay for the technical and professional components of an x-ray just once. When a provider who did not perform or review the original x-ray reviews the image and writes up an interpretation of it, it is referred to as a re-read. When considering the proper coding of an x-ray re-read, it is essential to differentiate the types of x-ray reviews which might take place. Each of the following situations would be coded differently:
Part of an Evaluation & Management visit
A consultation on x-ray done elsewhere
An extensive record review
Evaluation & Management
The medical decision making (MDM) component of an E/M service includes ordering and/or reviewing of data, which includes a review and interpretation of medical records and reports (e.g., x-ray, lab, etc.). Even if the images are taken in another facility, the work involved in reviewing the x-ray itself along with any reports is considered bundled into the MDM portion of the E/M service and is not separately payable. Therefore, payment for a re-read is included in the payment for the appropriate level of E/M service and is not separately payable.
Should you decide to bill an E/M service, remember that medical necessity is the determining factor for a payer, along with the components of the E/M service. Ask yourself:
Is this service really necessary?
Does it meet payer requirements for medical necessity?
Does it meet the official CPT requirements for E/M code selection?
If the patient is returning for a review of the imaging (that was performed and read elsewhere ) and to determine a treatment plan based on those findings, then an E/M service may be the most appropriate format in which to get paid for a re-read. Always follow the official rules and regulations when billing an E/M service. Proper documentation is essential.
Consultation
There are a couple of different consultation coding options, but in order to report ANY of these, the requesting entity cannot be a patient. The consultation request MUST be initiated by another physician, or appropriate source as defined by CPT guidelines (e.g., healthcare agency, attorney, insurance company, other healthcare provider).
One consultation option could be code 76140. The following guidelines from CPT Assistant 1997 provide guidance for its use:
Using Code 76140 Consultation on x-ray examination made elsewhere, written report
You would use this code when a physician's opinion or advice regarding a specific film is requested by another physician and upon examination of the film, the consulting physician renders his or her consultation (ie, or his/her opinion or advice) to the requesting physician in the form of a written report.
If a patient presents to an office for a new patient visit and brings to the physician his or her medical records, including x-rays, you should not report code 76140. Although the x-rays may have been taken elsewhere, the physician does not perform a consultation as intended by code 76140. Rather, the review or re-read of the x-rays would be considered part of the face-to-face E/M service provided to the patient. Again, the E/M codes include work done before, during, or after the E/M visit. Review of x-rays is part of the E/M service. Remember, 76140 represents a consultation, in which a physician only renders an opinion or gives advice regarding the film in the form of a written report. In general, when reporting 76140, the physician is not concurrently providing an E/M face-to-face service to the patient.
Another consultation situation would be the outpatient E/M consultation codes (99241-99245) and some new interprofessional telephone/internet/electronic health record consultation codes (99446-99452) which could apply if another physician or QHP requests a consultation and the expertise of another provider. However, these codes cannot be used when the only communications are to arrange a transfer of care or other face-to-face service. The individual components and criteria must be met in order to report these codes.
Extensive Record Review
Code 99358 describes prolonged E/M services before and/or after direct patient care; first hour, with specific documentation criteria. The work involved in an X-ray re-read alone would be extremely rare and therefore would not qualify for reporting this code. The CPT Assistant, August 2012, states the following about this code:
These services may consist of, but not limited to, prolonged communication consulting with other health care professionals related to ongoing management of the patient, Evaluation and Management service performed earlier on the patient, or prolonged review of extensive health record and diagnostic tests regarding the patient.
What About Modifier 77?
Previous editions of the ChiroCode DeskBook indicated that it would be appropriate to bill the re-read of the x-ray with modifiers 26 (professional component) and 77 (repeat procedure by another physician) along with the applicable procedure code as long as there was an additional report included to indicate why the service was needed (medical necessity) along with the additional findings which would supplement the first report.
When reviewing the exact wording of the description for this modifier, the key phrases are "basic procedure" and "had to be repeated." Does the payer consider a review of an x-ray a "basic procedure" AND would they consider the re-read something that "had to be repeated?" It may be difficult to convince a payer that you "had to" do a re-read separate from any other services provided by you. Many payers simply do not recognize modifier 77 for this type of service and will deny the claim outright. If however, they paid the claim and it later came under scrutiny in an audit, it would likely fail the audit and the fines and penalties could be disastrous.
###
Questions, comments?
If you have questions or comments about this article please contact us. Comments that provide additional related information may be added here by our Editors.
Latest articles: (any category)
Reporting Modifiers 76 and 77 with Confidence
April 18th, 2023 - Aimee Wilcox
Modifiers are used to indicate that a procedure has been altered by a specific circumstance, so you can imagine how often modifiers are reported when billing medical services. There are modifiers that should only be applied to Evaluation and Management (E/M) service codes and modifiers used only with procedure codes. Modifiers 76 and 77 are used to identify times when either the same provider or a different provider repeated the same service on the same day and misapplication of these modifiers can result in claim denials.
Five Documentation Habits Providers Can Use Implement to Improve Evaluation & Management (E/M) Scoring
April 11th, 2023 - Aimee Wilcox
Provider education on E/M coding updates is vital to the success of any organization, but how do you whittle down the massive information into bite-sized pieces the providers can learn in just a few minutes? Check out the five steps we have identified to teach providers in just a few minutes that can significantly impact and improve coding outcomes.
Second Quarter 2023 Updates are Different This Year
April 6th, 2023 - Wyn Staheli
The second quarter of 2023 is NOT business as usual so it is important to pay attention to ensure that organizational processes and training take place to avoid mistakes. Not only have ICD-10-CM coding updates been added to the usual code set updates (e.g., CPT, HCPCS, ICD-10-PCS), but the end of the COVID-19 Public Health Emergency will bring about changes that will also take place during the quarter (but not on April 1, 2023.
7 Measures Developed by the HHS Office of Inspector General (OIG) to Identify Potential Telehealth Fraud
March 28th, 2023 - Aimee Wilcox
A recent review of telehealth services reported in Medicare claims data during the pandemic where these seven measures for identifying suspected fraud, waste, and abuse were applied, revealed more than a thousand Medicare providers potentially committed fraud during this period. What are the measures the OIG applied during their review, and how will that impact future telehealth guidelines moving forward?
MUEs and Bilateral Indicators
March 23rd, 2023 - Chris Woolstenhulme
MUEs are used by Medicare to help reduce improper payments for Part B claims. This article will address the use of the National Correct Coding Initiative (NCCI) and Medically Unlikely Edits (MUEs) and how they are used by CMS.
It is True the COVID-19 PHE is Expiring
March 16th, 2023 - Raquel Shumway
The COVID-19 PHE is Expiring, according to HHS. What is changing and what is staying the same? Make sure you understand how it will affect your practice and your patients.
Billing Process Flowchart
March 2nd, 2023 -
The Billing Process Flowchart (see Figure 1.1) helps outline the decision process for maintaining an effective billing process. This is only a suggested work plan and is used for demonstration purposes to illustrate areas which may need more attention in your practice's policies and...