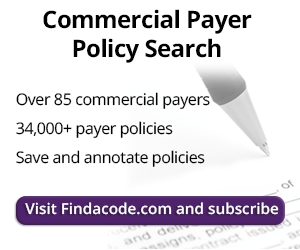 Modifier 52 vs. 53
December 29th, 2015 - Seth Canterbury, CPC, ACS-EM
0 Votes -

Sign in

to vote or comment.
---
So you've read the descriptions for both Modifiers 52 and 53, but you're still on the fence as to which one is appropriate for a certain surgical case. This brief article will try to better differentiate between these two often-confused modifiers.
Modifier 53 is appropriate when a procedure is discontinued due to "an extenuating circumstance or one that threatens the well-being of the patient," and this physician decision always happens after the procedure has begun in cases where Modifier 53 is appropriate. Often times the decision is made so early in the procedure that only an initial incision has been made but no specific work (as stated in the description of the code that was to have been used) has been accomplished. A re-scheduling of the entire procedure will often be necessary once the reason for the termination is evaluated and resolved, as the original reason for the surgery still exists and still needs surgical treatment.
Modifier 52 is used when a physician elects to partially reduce or eliminate a procedure, often (but not always) making this decision before the procedure has even begun. However, something (usually the majority of the work included in the description of the code) is still accomplished in situations where Modifier 52 is appropriate. In some cases, performance of the "reduced" or "eliminated" portion may be done at a later surgery. In other cases, this omitted portion of the service will not be performed at a subsequent operation. Performance of the omitted portion may not be possible because the structure is no longer present (was previously excised) or it is not simply not medically necessary to do this portion of the service.
Here's where it can get a bit confusing: It is possible that a decision could be made by the physician mid-procedure, after doing the majority of the work described by a code, to "eliminate" what was to have been the final part or a procedure, essentially "discontinuing" a surgery before accomplishing all of the work listed in the code description, and this is where some question whether Modifier 53 should appropriately be reported instead of 52. However, a physician electing to eliminate the last portion of a procedure for a reason other than an extenuating circumstance/one that threatens the well-being of a patient should still be coded with Modifier 52, notwithstanding the fact that this decision to "eliminate" a portion of the service could constitute a "discontinuation" in a certain sense of the word.
###
Questions, comments?
If you have questions or comments about this article please contact us. Comments that provide additional related information may be added here by our Editors.
Latest articles: (any category)
HIPAA Penalty Changes
January 11th, 2021 - Wyn Staheli, Director of Research
On January 5, 2021, H.R. 7898 was signed into law by President Trump. This new law modifies the HITECH Act such that when an organization experiences a breach, fines and/or penalties may be reduced if (for at least a year) they have instituted "recognized security practices" as defined within the law.
CDT and CPT - The Same but Different!
December 8th, 2020 - Christine Woolstenhulme, QCC, QMCS, CPC, CMRS
Reporting a CPT code for an evaluation of a patient is based on time and if the patient is a new or established patient. Evaluation and Management codes are different than other codes, it is important to understand how they are used, prior to 2021 they were based on a ...
How to Search Find-A-Code for Medicare Policies and Guidelines — LCDs, NCDs and Articles —
November 18th, 2020 - Raquel Shumway
Help for Searching Find-A-Code when searching for Medicare Policies and Guidelines — LCDs, NCDs and/or Articles.
Cross-A-Code Instructions in Find-A-Code
November 18th, 2020 - Raquel Shumway
Cross-A-Codeis a toll found in Find-A-Code which helps you to locate codes in other code sets that help you when submitting a claim.
COVID Vaccine Codes Announced
November 11th, 2020 - Wyn Staheli, Director of Research
On November 10, 2020, the American Medical Association (AMA) announced the addition of two new codes which will be used for the new COVID-19 vaccines along with 4 new administration codes to be used when reporting the administration of these vaccines.
Are You Aware of the 2021 Star Rating System Updates?
November 5th, 2020 - Aimee Wilcox, CPMA, CCS-P, CST, MA, MT, Director of Content
Each year the Centers for Medicare & Medicaid Services (CMS) publishes the Star Ratings System Updates for Medicare Advantage (Part C) and Medicare Prescription (Part D). This rating system was developed to help beneficiaries identify and select the health plans that best meet their needs, specifically addressing main issues:  Quality of ...
Special Needs Plans Help Beneficiaries and Risk Adjustment Reporting
October 22nd, 2020 - Aimee Wilcox, CPMA, CCS-P, CST, MA, MT, Director of Content
It is no secret that Medicare and Medicaid are steadily moving towards their goal of value-based health care. Medicare Part C (Medicare Advantage) identifies and rewards payers, and subsequently their providers, for increasing the efficiency and quality of care they provide to Medicare...