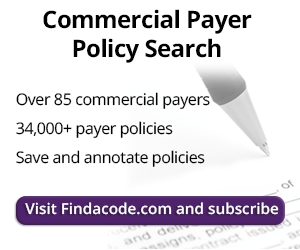 Coverage and/or Medical Necessity for the Use of Hyaluronan or Derivitive
January 9th, 2018 - Find-A-Code
0 Votes -

Sign in

to vote or comment.
---
According to Palmetto GBA, Medicare will cover the cost of the injection and the injected hyaluronate polymer for patients who meet the following clinical criteria:
Knee pain associated with radiographic evidence of osteophytes in the knee joint, sclerosis in bone adjacent to the knee, or joint space narrowing.
Morning stiffness of less than 30 minutes in duration or crepitus on motion of the knee.
The pain cannot be attributed to other forms of joint disease.
There are no contraindications to the injections.
The prosthetic device is approved by the Food and Drug Administration (FDA) for intra-articular injection.
Pain that interferes with functional activities (e.g., ambulation, prolonged standing, ability to sleep).
Lack of functional improvement following a trial of at least three months of conservative therapy, or the patient is unable to tolerate Non-Steroidal Anti-inflammatory Drug (NSAID) therapy because of adverse side effects.
Bilateral injections may be allowed if both knees meet the criteria.
The frequency of injections is:
An initial series of three to five weekly injections per knee. Note: Synvisc-One® and Gel-One® are administered through a single intra-articular injection.
A repeat series of injections for patients who have responded to the first series may be given individual consideration by Medicare for coverage under the following circumstances:
The medical record objectively documents significant improvement in pain and functional capacity using a standardized assessment tool; OR
The medical record documents significant reduction in the doses of non-steroidal anti-inflammatory medications taken or reduction in the number of intra-articular steroid injections to the knees during the six-month period following the injection; and
At least six months have elapsed since the prior series of injections.
A series is defined as a set of injections for each joint and each treatment. The EJ modifier must be used with the HCPCS code for the drug administered to indicate subsequent injections of a series. The modifier is not to be used with the first injection of each series.
The appropriate records documenting the improvement must be maintained in the medical record and made available to Medicare upon request.
If the series of injections using sodium hyaluronate did not prove to be beneficial to the patient, it would not be reasonable to repeat the therapy again using any of these products. Thus, a repeat series of injections would not be covered.
Topical application is not covered.
Drug Wastage
Medicare provides payment for the discarded drug/biological remaining in a single-use drug product after administering what is reasonable and necessary for the patient's condition. If the physician has made good faith efforts to minimize the unused portion of the drug/biological in how patients are scheduled and how he ordered, accepted, stored, and used the drug, and made good faith efforts to minimize the unused portion of the drug in how it is supplied, the program will cover the amount of drug discarded along with the amount administered.

Note: The JW modifier is not used on claims for drugs or biologicals provided under the Competitive Acquisition Program (CAP).
###
Questions, comments?
If you have questions or comments about this article please contact us. Comments that provide additional related information may be added here by our Editors.
Latest articles: (any category)
Important Podcast on Dental to Medical Billing
September 21st, 2020 - Christine Woolstenhulme, QCC, QMCS, CPC, CMRS
Be sure and check out this discussion with LaMont Leavitt (CEO of innoviHealth) and Christine Taxin (Adjunct professor at New York University, President of Dental Medical Billing, and Links2Success).  Some of the resources and tools they discuss will help you with your dental coding/billing and education. Do You Have All the Right ...
More COVID-19 Codes Added as of September 8, 2020
September 15th, 2020 - Wyn Staheli, Director of Research
The American Medical Association (AMA) recently announced the addition of two more CPT codes in relation to COVID and the Public Health Emergency (PHE). Codes 99702 and 86413 were posted to the AMA website on Tuesday, September 8, 2020 and new guidelines have been added as well.
Not Following the Rules Costs Chiropractor $5 Million
September 1st, 2020 - Wyn Staheli, Director of Research
Every healthcare office needs to know and understand the rules that apply to billing services and supplies. What lessons can we learn from the mistakes of others? What if we have made the same mistake?
New Value-Based Payment Models for Primary Care (Primary Care First and Direct Contracting)
August 28th, 2020 - Jared Staheli
This article summarizes the new Medicare value-based payment models: Primary Care First and Direct Contracting.
Podcast - Do you have all the right Dental resources needed to succeed in Dental Medical Billing and Coding?
August 27th, 2020 - Innoventrum
Discussion between innoviHealth CEO, LaMont Leavitt and Guest speaker, Christine Taxin who is an Adjunct professor at New York University, and President of Dental Medical Billing and Links2Success about making sure you have all the right Dental resources needed to succeed in Dental Medical Billing and Coding. ...
Is COVID-19 Causing Risk Adjustment "Gotcha's"?
August 27th, 2020 - Wyn Staheli, Director of Research
The COVID-19 public health emergency (PHE) has created some possible problems when it comes to risk adjustment. Be sure your organization has implemented policies and procedures to try and overcome these new hurdles.
New and Exciting Changes in the Dental Industry
August 26th, 2020 - Christine Taxin - Links 2 Success
My colleagues and I are nerds for information on all things billable—or not billable—in the worlds of dental and medical insurance. One of the most puzzling challenges for me over the past 15 years of teaching has been to understand why we on the dental side are segregated out of ...