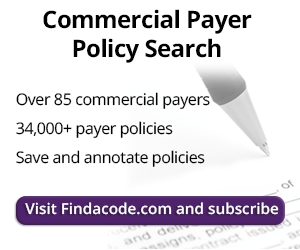 Sleep Apnea Terminology
January 3rd, 2018 - Find-A-Code
---
According to

CGS and Noridian Medicare Administrative Contractors

, the following terms and their definitions are linked to the prescription and use of positive airway pressure devices for the treatment of obstructive sleep apnea.
Apnea:
The cessation of airflow for at least 10 seconds.
Apnea-Hypopnea Index (AHI): The average number of episodes of apnea and hypopnea per hour of sleep without the use of a positive airway pressure device. Respiratory effort related arousals (RERAs) are not included in the calculation of the AHI. Sleep time can only be measured in a Type I or (facility based polysomnogram) Type II sleep study.
BiPAP: Bilevel positive airway pressure device, which provides two settings (different from CPAP which only offers a continuous high pressure air flow). A BiPAP device allows settings for a prescribed pressure and exhalation pressure; allowing patients to exhale more easily and not fight against a continuous or high pressure airflow.
CPAP: Continuous positive airway pressure device consists of a mask hooked to a pump that forces a steady stream of pressurized air through obstructed, or partially obstructed, airway passages to keep them open while sleeping.
Hypopnea: An abnormal respiratory event lasting at least 10 seconds associated with at least a 30% reduction in thoracoabdominal movement or airflow as compared to baseline, and with at least a 4% decrease in oxygen saturation.
Obstructed Sleep Apnea (OSD): A serious disorder in which the patient repeatedly starts and stops breathing, for periods of 10 seconds or more, while sleeping, due to the muscles of the throat relaxing and blocking the airway.
Respiratory Disturbance Index (RDI): The average number of apneas plus hypopneas per hour of recording without the use of a positive airway pressure device. (RERAs) are not included in the calculation of the RDI. The RDI is reported in Type III and Type IV, and Other home sleep studies.
###
Questions, comments?
If you have questions or comments about this article please contact us. Comments that provide additional related information may be added here by our Editors.
Latest articles: (any category)
Reporting Modifiers 76 and 77 with Confidence
April 18th, 2023 - Aimee Wilcox
Modifiers are used to indicate that a procedure has been altered by a specific circumstance, so you can imagine how often modifiers are reported when billing medical services. There are modifiers that should only be applied to Evaluation and Management (E/M) service codes and modifiers used only with procedure codes. Modifiers 76 and 77 are used to identify times when either the same provider or a different provider repeated the same service on the same day and misapplication of these modifiers can result in claim denials.
Five Documentation Habits Providers Can Use Implement to Improve Evaluation & Management (E/M) Scoring
April 11th, 2023 - Aimee Wilcox
Provider education on E/M coding updates is vital to the success of any organization, but how do you whittle down the massive information into bite-sized pieces the providers can learn in just a few minutes? Check out the five steps we have identified to teach providers in just a few minutes that can significantly impact and improve coding outcomes.
Second Quarter 2023 Updates are Different This Year
April 6th, 2023 - Wyn Staheli
The second quarter of 2023 is NOT business as usual so it is important to pay attention to ensure that organizational processes and training take place to avoid mistakes. Not only have ICD-10-CM coding updates been added to the usual code set updates (e.g., CPT, HCPCS, ICD-10-PCS), but the end of the COVID-19 Public Health Emergency will bring about changes that will also take place during the quarter (but not on April 1, 2023.
7 Measures Developed by the HHS Office of Inspector General (OIG) to Identify Potential Telehealth Fraud
March 28th, 2023 - Aimee Wilcox
A recent review of telehealth services reported in Medicare claims data during the pandemic where these seven measures for identifying suspected fraud, waste, and abuse were applied, revealed more than a thousand Medicare providers potentially committed fraud during this period. What are the measures the OIG applied during their review, and how will that impact future telehealth guidelines moving forward?
MUEs and Bilateral Indicators
March 23rd, 2023 - Chris Woolstenhulme
MUEs are used by Medicare to help reduce improper payments for Part B claims. This article will address the use of the National Correct Coding Initiative (NCCI) and Medically Unlikely Edits (MUEs) and how they are used by CMS.
It is True the COVID-19 PHE is Expiring
March 16th, 2023 - Raquel Shumway
The COVID-19 PHE is Expiring, according to HHS. What is changing and what is staying the same? Make sure you understand how it will affect your practice and your patients.
Billing Process Flowchart
March 2nd, 2023 -
The Billing Process Flowchart (see Figure 1.1) helps outline the decision process for maintaining an effective billing process. This is only a suggested work plan and is used for demonstration purposes to illustrate areas which may need more attention in your practice's policies and...