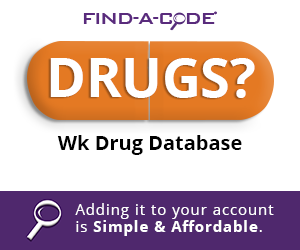 Coverage Criteria for Nonwearable Automatic Defibrillators
April 19th, 2018 - Find-A-Code
0 Votes -

Sign in

to vote or comment.
---
According to Noridian and CGS Administrators LCD L33690, a nonwearable automatic defibrillator (E0617) is covered for beneficiaries in two circumstances. They meet either (1) both criteria A and B or (2) criteria C, described below:
The beneficiary has one of the following conditions (1-8):


A documented episode of cardiac arrest due to ventricular fibrillation, not due to a transient or reversible cause
A sustained, lasting 30 seconds or longer, ventricular tachyarrhythmia, either spontaneous or induced during an electrophysiologic (EP) study, not associated with acute myocardial infarction, and not due to a transient or reversible cause
Familial or inherited conditions with a high risk of life-threatening ventricular tachyarrythmias such as long QT syndrome or hypertrophic cardiomyopathy
Coronary artery disease with a documented prior myocardial infarction with a measured left ventricular ejection fraction less than or equal to 0.35, and inducible, sustained ventricular tachycardia (VT) or ventricular fibrillation (VF) during an EP study. To meet this criterion;

The myocardial infarction must have occurred more than 4 weeks prior to the external defibrillator prescription; and,
The EP test must have been performed more than 4 weeks after the qualifying myocardial infarction.

Documented prior myocardial infarction and a measured left ventricular ejection fraction less than or equal to 0.30. Beneficiaries must not have:

Cardiogenic shock or symptomatic hypotension while in a stable baseline rhythm; or,
Had a coronary artery bypass graft (CABG) or percutaneous transluminal coronary angioplasty (PTCA) within past 3 months; or,
Had an enzyme-positive MI within past month; or,
Clinical symptoms or findings that would make them a candidate for coronary revascularization; or,
Irreversible brain damage from preexisting cerebral disease; or,
Any disease, other than cardiac disease (e.g. cancer, uremia, liver failure), associated with a likelihood of survival less than one year.

Beneficiaries with ischemic dilated cardiomyopathy (IDCM), documented prior myocardial infarction (MI), New York Heart Association (NYHA) Class II and III heart failure, and measured left ventricular ejection fraction (LVEF) ≤ 35%.
Beneficiaries with nonischemic dilated cardiomyopathy (NIDCM) > 3 months, NYHA Class II and III heart failure, and measured LVEF ≤ 35%
Beneficiaries who meet criteria (1-7) and have NYHA Class IV heart failure

Implantation surgery is contraindicated


A previously implanted defibrillator now requires explantation
###
Questions, comments?
If you have questions or comments about this article please contact us. Comments that provide additional related information may be added here by our Editors.
Latest articles: (any category)
Coding with PCS When There is No Code
August 5th, 2020 - Christine Woolstenhulme, QCC, QMCS, CPC, CMRS
ICD-10-PCS covers ALMOST everything! But not quite! What if a body system does not contain a body part for toes or fingers? What about an elbow? When it does not cover what you are looking for, where do you turn?  To the guidelines, of course! There are ICD-10-PCS guidelines just as ...
To Our Codapedia Friends!
July 30th, 2020 - Christine Woolstenhulme, QCC, QMCS, CPC, CMRS
Codapedia friends, come and join us at Find-A-Code - a core product of innoviHealth! The information found on Codapedia comes from our sister company, Find-A-Code. If you do not already have a subscription with the greatest online coding encyclopedia, call us and get signed up today. We are offering a ...
OIG Report Highlights Need to Understand Guidelines
July 28th, 2020 - Wyn Staheli, Director of Research
A new OIG report once again highlights the necessity for organizations to fully understand requirements for reporting services and having proper documentation. The types of problems addressed in this report are ongoing issues for multiple types of services and specialties and for many different payers.
Office of Inspector General Says Medicare Advantage Organizations are Denying Services Inappropriately
July 21st, 2020 - Aimee Wilcox
We attended the recent virtual RISE National Conference and had the opportunity to listen to presenters share their knowledge about risk adjustment and HCC reporting and data validation. Among the presenters were representatives from the Office of Inspector General (OIG), who presented findings from encounter data from 2012-2016. They began ...
Use the Correct Diagnosis Codes and Revenue Codes to Get Paid for PAD Rehab
July 15th, 2020 - Christine Woolstenhulme, QCC, QMCS, CPC, CMRS
The initial treatment in rehabilitation for patients suffering from Intermittent Claudication (IC) is Supervised Exercise Therapy (SET) for Symptomatic Peripheral Artery Disease (PAD).  Rehabilitation using SET involves the use of intermittent walking exercise, which alternates periods of walking to moderate-to-maximum claudication, with rest.   When reporting 93668 for peripheral arterial disease rehabilitation the following ...
New Name Same Great Product! "HCC Plus"
July 14th, 2020 - Find-A-Code
Hello HCC Customers! We have made a change in name only to our HCC subscription. The new subscription is now called "HCC Plus". Keep in mind there have been no changes to the product. Using your subscription along with the risk adjustment calculator will ensure you stay current with...
Are NCCI Edits Just for Medicare?
July 14th, 2020 - Christine Woolstenhulme, QCC, QMCS, CPC, CMRS
The National Correct Coding Initiative (NCCI) edits were developed by CMS to help promote proper coding and control improper coding that leads to incorrect payments with part B claims. It is important to understand that NCCI edits do not include every possible code combination or every type of un-bundling combination. With that ...