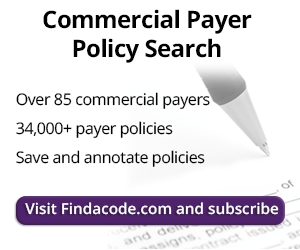 Flexion-Distraction Billing Clarification
December 20th, 2018 - Wyn Staheli, Director of Research
0 Votes -

Sign in

to vote or comment.
---
Recently we posted a Q/A with stated that Cox-flexion distraction was not billable with code 97012. We received a comment from a customer stating that was not entirely correct because there is an add-on to the standard Cox table which satisfied the mechanical requirements to use code 97012. This article further clarifies the previous Q/A.
Please note that the original question did not mention any special 'optional' equipment so our answer was based on their question. It is our understanding that the majority of providers do not add the additional or optional components. Also keep in mind that there are other brands of equipment so we will refer to this as flexion-distraction technique.
Our answer was based on the standard of coding guidelines and rules including policies issued by the American Chiropractic Association (ACA). According to the American Chiropractic Association (ACA) Policy (emphasis added)
Flexion distraction is a Chiropractic Manipulative Technique. Per the preamble of the CMT code set (98940-98943) it is a procedure that is a form of manual treatment to influence joint and neurophysiological function. The physician work included in CMT codes was laid out in a work value survey of the chiropractic profession conducted in the spring of 1996 and included the work of flexion distraction. The procedure is taught in the curriculum in accredited chiropractic programs and institutions. Therefore, the appropriate coding for this technique is 98940, 98941, or 98942, depending on the number of other body regions treated.
According to Brandy Brimhall CPC, CMCO, CCCPC, CMCO, CPMA, "... traction [is] a code that is very commonly audited and refunds are requested for inappropriate use of the code, lack of medical necessity for the service and even evidence of excessively and routinely performing the procedure whereas reimbursement would not be allowed. So, if a question coming in does not clearly identify that there may be some special circumstances that need to be considered or evaluated, our responses will be directed toward the standard rules and guidelines in effort to minimize risk of audit and vulnerability to the practice."
So let's look at what the ACA has to say about code 97012 (emphasis added):
Procedure Code 97012, Mechanical Traction/Spinalator
The American Chiropractic Association (ACA) receives numerous requests for clarification on describing the work associated with mechanical traction. According to CPT, mechanical traction is described as the force used to create a degree of tension of soft tissues and/or to allow for separation between joint surfaces. The degree of traction is controlled through the amount of force (pounds) allowed, duration (time), and angle of pull (degrees) using mechanical means. Terms often used in describing pelvic/cervical traction are intermittent or static (describing the length of time traction is applied), or autotraction (use of the body's own weight to create the force). A common question is whether roller table type traction meets the above requirement. Roller table type traction normally meets the requirement of autotraction, the use of the body's own weight to create the force. It is the position of the American Chiropractic Association that modalities such as mechanical traction are not included in the work of the CMT codes. Code 97012 should be used to describe these services, subject to documented medical necessity.
The bottom line is that even if you feel that the additional, optional equipment justifies the use of code 97012, according to Evan M. Gwilliam, DC MBA BS CPC CCPC CPC-I QCC MCS-P CPMA CMHP AAPC Fellow, "go ahead and bill as 97012 as long as you feel like the work you are doing meets the criteria for the code and you feel you could win an argument with a claims reviewer or auditor." If you do decide to go ahead and bill this service, be sure to document the key terms in bold above: type (e.g., static, intermittent, autotraction), amount of force (pounds), duration (time), and angle of pull (degrees).
###
Questions, comments?
If you have questions or comments about this article please contact us. Comments that provide additional related information may be added here by our Editors.
Latest articles: (any category)
Packaging and Units for Billing Drugs
May 18th, 2020 - Christine Woolstenhulme, QCC, CMCS, CPC, CMRS
To determine the dosage, size, doses per package and how many billing units are in each package, refer to the NDC number. Take a look at the following J1071 - Injection, testosterone cypionate, 1mg For example; using NCD # 0009-0085-10 there are 10 doses of 100 mL (100 mg/mL = 1 mL and there are ...
Getting Your Practice Back on Track
May 12th, 2020 - Wyn Staheli, Director of Research
As we begin returning back to work, we will all face a new normal. The COVID-19 pandemic has changed the face of business. While it has certainly been a challenge to keep up with the ever-changing regulations (that's likely to continue for a little longer), exciting new opportunities have also been created, such as the expansion of telemedicine. There's also the maze of government funding that needs to be navigated and an increased awareness of OSHA standards to implement.
ICD-10-CM - Supplement information for E-Cigarette/Vaping Reporting
May 5th, 2020 - Christine Woolstenhulme, QCC, CMCS, CPC, CMRS
The CDC has released additional information and coding guidance for reporting encounters related to the 2019 health care encounters and deaths related to e-cigarette, or vaping, product use associated lung injury (EVALI).  The update offers coding scenarios for general guidance, poisoning and toxicity, substance abuse and signs and symptoms.  ICD-10-CM Official Coding Guidelines - ...
Additional Telehealth Changes Announced by CMS
May 4th, 2020 - Wyn Staheli, Director of Research
On April 30, 2020, CMS announced additional sweeping changes to meet the challenges of providing adequate healthcare during this pandemic. These changes expand the March 31st changes. The article covers some of the key changes. See the official announcement in the references below.
Effective Risk Adjustment Requires Accurate Calculations
April 27th, 2020 - Wyn Staheli, Director of Research
Risk adjustment is simply a way of making sure that there are sufficient funds to adequately take care of the healthcare needs of a certain population. It's a predictive modeling methodology based on the diagnoses of the individuals in that population. As payers move to value based models, they heavily rely on risk adjustment to ensure proper funding.
COVID-19 Clinical Trial Participation Helps Providers Earn MIPS Credit
April 22nd, 2020 - Wyn Staheli, Director of Research
All healthcare providers who are currently participating in the MIPS portion of Medicare's Quality Payment Program may want to participate in the new COVID-19 Clinical Trials improvement activity. Read more about it here.
Special COVID Laboratory Specimen Coding Information
April 21st, 2020 - Wyn Staheli, Director of Research
With all the new laboratory test codes that have been added due to the current public health emergency (PHE), there are a few additional guidelines CMS has released about collecting samples to perform the testing. Please keep in mind that these guidelines are by CMS and may or may not apply to other commercial payer policies.