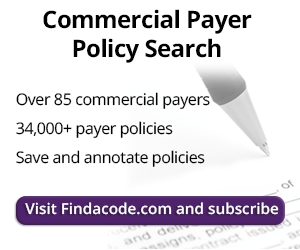 Dry Needling
January 3rd, 2019 - Wyn Staheli, Director of Research
---
The correct coding of dry needling, also known as trigger point needling, has been a subject of confusion for quite some time. The American Chiropractic Association (ACA) and the American Physical Therapy Association (APTA) have been working together for several years to obtain appropriate codes to describe this service. In September of 2018, they made a presentation to the American Medical Association (AMA) CPT Panel which subsequently approved new non-time-based codes which will be in the Surgery section of the CPT code book in the "Procedures on the Musculoskeletal System" section. These new codes describe needle insertion(s) without injection(s) and will likely be effective in January 1, 2020.
So that leaves us with another year to muddle through. Basically, it really boils down to what payers want. The problem is that even though various professional organizations have stated their policies, payer policies are varied. Let's review these differences.
AMA: The AMA's position is to use code 20999 which is found in the CPT Assistant, October 2014 (emphasis added):
Dry needling (DN) is a technique in which a thin filiform needle is used to penetrate the skin and stimulate underlying myofascial trigger points, muscular, and connective tissues. To clarify proper reporting of trigger point services performed using a "dry needle" technique, an article was published in the September 2003 issue of CPT Assistant, stating that codes from the (20550-20553) code range are not intended for reporting a "dry needle" technique, and that dry needling techniques may be reported with the unlisted procedure code 20999, Unlisted procedure, musculoskeletal system, general.
APTA: According to a 2014 statement by the APTA, "If no such specific code exists, then report the service using the appropriate unlisted physical medicine/rehabilitation service or procedure code 97799."
BC/BS of Lousinana: To further complicate things, a recent (June 2018) Blue Cross/Blue Shield Professional Provider Office Manual Addendum provides new guidance on coding dry needling (emphasis added):
Manual and Massage Therapy Performed as part of Chiropractic Care
Therapeutic procedures (i.e. 97124 & 97140) used to relax or prepare the patient for manipulation are considered fundamental to the manipulation and are included in the manipulation reimbursement when they are performed in the same area on the same day. Dry needling may be reimbursed separately even if performed in the same area on the same day and should be billed as code 97140 with Modifier 59.
Dry Needling (Intramuscular Manual Therapy)
Currently there is no specific CPT code for dry needling, so this service should be billed with CPT code 97140. Unlisted CPT codes should not be used to bill for this service. If dry needling is performed on the same day as chiropractic manipulative treatment (CMT), Modifier 59 should be appended to 97140 so that it may be allowed for separate payment.
Recommendation
If the payer does NOT have a specific policy with a preferred code, it could be argued that either 20999 or 97799 could appropriately be billed. Since the new codes will be in the surgery section, perhaps code 20999 would be the more appropriate choice to use until the new codes are available in 2020.
Who May Perform DN?
Like coding policies, there are scope of practice differences between states and organizations. Perhaps as new codes are assigned, national policies can help to clarify the issue. Previously, acupuncturists have opposed the use of dry needling by PTs, stating that this amounts to practicing acupuncture without a license. However, the new codes clearly state that the intent of dry needling is different than a typical acupuncture service. Some states consider dry needling within the scope of practice for PTs, while other states simply do not prohibit it. Contact your state professional association to determine the rules for your state.
###
Questions, comments?
If you have questions or comments about this article please contact us. Comments that provide additional related information may be added here by our Editors.
Latest articles: (any category)
What's Going on with the COVID Vaccines Now?
May 4th, 2023 - Wyn Staheli
Keeping up with the changes to the COVID vaccines has certainly been a rollercoaster ride and we now have two new twists to this exciting ride. Buckle up and let's look at how this changes things.
Reporting Modifiers 76 and 77 with Confidence
April 18th, 2023 - Aimee Wilcox
Modifiers are used to indicate that a procedure has been altered by a specific circumstance, so you can imagine how often modifiers are reported when billing medical services. There are modifiers that should only be applied to Evaluation and Management (E/M) service codes and modifiers used only with procedure codes. Modifiers 76 and 77 are used to identify times when either the same provider or a different provider repeated the same service on the same day and misapplication of these modifiers can result in claim denials.
Five Documentation Habits Providers Can Use Implement to Improve Evaluation & Management (E/M) Scoring
April 11th, 2023 - Aimee Wilcox
Provider education on E/M coding updates is vital to the success of any organization, but how do you whittle down the massive information into bite-sized pieces the providers can learn in just a few minutes? Check out the five steps we have identified to teach providers in just a few minutes that can significantly impact and improve coding outcomes.
Second Quarter 2023 Updates are Different This Year
April 6th, 2023 - Wyn Staheli
The second quarter of 2023 is NOT business as usual so it is important to pay attention to ensure that organizational processes and training take place to avoid mistakes. Not only have ICD-10-CM coding updates been added to the usual code set updates (e.g., CPT, HCPCS, ICD-10-PCS), but the end of the COVID-19 Public Health Emergency will bring about changes that will also take place during the quarter (but not on April 1, 2023.
7 Measures Developed by the HHS Office of Inspector General (OIG) to Identify Potential Telehealth Fraud
March 28th, 2023 - Aimee Wilcox
A recent review of telehealth services reported in Medicare claims data during the pandemic where these seven measures for identifying suspected fraud, waste, and abuse were applied, revealed more than a thousand Medicare providers potentially committed fraud during this period. What are the measures the OIG applied during their review, and how will that impact future telehealth guidelines moving forward?
MUEs and Bilateral Indicators
March 23rd, 2023 - Chris Woolstenhulme
MUEs are used by Medicare to help reduce improper payments for Part B claims. This article will address the use of the National Correct Coding Initiative (NCCI) and Medically Unlikely Edits (MUEs) and how they are used by CMS.
It is True the COVID-19 PHE is Expiring
March 16th, 2023 - Raquel Shumway
The COVID-19 PHE is Expiring, according to HHS. What is changing and what is staying the same? Make sure you understand how it will affect your practice and your patients.