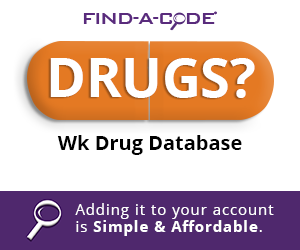 Operating microscope
March 2nd, 2009 - Codapedia Editor
0 Votes -

Sign in

to vote or comment.
---
CPT® defines certain operative procedures as including the use of an operating microscope, code 69990.
69990 is an add on code, indicated by the plus sign in front of it in the CPT® book. It is billed as a second procedure, without modifier 51. At the start of the section about this code there is a list of CPT® codes which include already the operating micrsocope. If the service being performed is on that list, do not report 69990 in addition to it.
In 2009, 69990 had total RVUs of 5.81.
It won't surpise anyone to know that has a different set of rules regarding 69990. Below, are citations from the Claims Processing Manual and the NCCI edits. Source documentation is listed under citations.
CMS only allows payment of the operating microscope with these codes:
20.4.5 - Allowable Adjustments
(Rev. 1, 10-01-03)
B3-15055
Effective January 1, 2000, the replacement code (CPT® 69990) for modifier -20 -
microsurgical techniques requiring the use of operating microscopes may be paid
separately only when submitted with CPT® codes:
61304 through 61546
61550 through 61711
62010 through 62100
63081 through 63308

63704 through 63710
64831
64834 through 64836
64840 through 64858
64861 through 64871
64885 through 64891
64905 through 64907.

Here's what they say in the NCCI manual, Chapter 1 about 69990:
1. Three or more HCPCS/CPT® codes may be reported on the same date of service. Although the column two code is misused if reported as a service associated with the column one code, the column two code may be appropriately reported with a third HCPCS/CPT® code reported on the same date of service. For example, CMS limits separate payment for use of the operating microscope for microsurgical techniques (CPT® code 69990) to a group of procedures listed in the online Claims Processing Manual (Chapter 12, Section 20.4.5 (Allowable Adjustments)). The NCCI has edits with column one codes of surgical procedures not listed in this section of the manual and column two CPT® code of 69990. Some of these edits allow use of NCCI-associated modifiers because the two services listed in the edit may be performed at the same patient encounter as a third procedure for which CPT® code 69990 is separately reportable.
###
Questions, comments?
If you have questions or comments about this article please contact us. Comments that provide additional related information may be added here by our Editors.
Latest articles: (any category)
Not Following the Rules Costs Chiropractor $5 Million
September 1st, 2020 - Wyn Staheli, Director of Research
Every healthcare office needs to know and understand the rules that apply to billing services and supplies. What lessons can we learn from the mistakes of others? What if we have made the same mistake?
New Value-Based Payment Models for Primary Care (Primary Care First and Direct Contracting)
August 28th, 2020 - Jared Staheli
This article summarizes the new Medicare value-based payment models: Primary Care First and Direct Contracting.
Podcast - Do you have all the right Dental resources needed to succeed in Dental Medical Billing and Coding?
August 27th, 2020 - Innoventrum
Discussion between innoviHealth CEO, LaMont Leavitt and Guest speaker, Christine Taxin who is an Adjunct professor at New York University, and President of Dental Medical Billing and Links2Success about making sure you have all the right Dental resources needed to succeed in Dental Medical Billing and Coding. ...
Is COVID-19 Causing Risk Adjustment "Gotcha's"?
August 27th, 2020 - Wyn Staheli, Director of Research
The COVID-19 public health emergency (PHE) has created some possible problems when it comes to risk adjustment. Be sure your organization has implemented policies and procedures to try and overcome these new hurdles.
New and Exciting Changes in the Dental Industry
August 26th, 2020 - Christine Taxin - Links 2 Success
My colleagues and I are nerds for information on all things billable—or not billable—in the worlds of dental and medical insurance. One of the most puzzling challenges for me over the past 15 years of teaching has been to understand why we on the dental side are segregated out of ...
To do a complete exam - you must include the following:
August 26th, 2020 - Christine Woolstenhulme, QCC, QMCS, CPC, CMRS
Real time scanning of the kidneys Abdominal aorta Common iliac artery origins Inferior vena cava Alternaltively, if ultrasonography is being performed to evaluate the urinary tract, examination of the kidneys and urinary bladder constitutes a complete exam. Code 76775 is used when a limited retroperitoneal ultrasound examination is performed. ...
2021 Brings Another Risk Adjustment Calculation Change
August 24th, 2020 - Aimee Wilcox, CPMA, CCS-P, CST, MA, MT, Director of Content
In 2021, a big change in Risk Adjustment score calculations will take place, which will affect payments to Medicare Advantage (MA) plans for the coming year and take us closer to quality and value-based programs instead of fee-for-service (FFS) or risk-adjusted (RA). Currently, CMS pays a per-enrollee capitated...