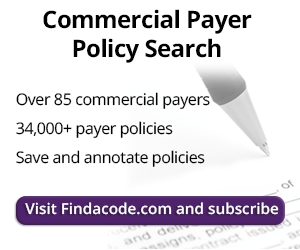 Calendar Year 2023 Medicare Advantage and Part C & D Payment Policies
August 9th, 2022 - Aimee L. Wilcox, CPMA, CCS-P, CST, MA, MT
---
On April 4, 2022, CMS finalized the 2023 MA capitation rates, as well as the Part C and Part D payment policies, in this publication: CMS CY 2023 Rate Announcement. As is standard for each annual update, the CY 2023 Capitation Rate Tables are available for review and download on the CMS Ratebooks and Supporting Data website.
In the Calendar Year 2023 Advance Notice, CMS described plans for a more focused approach to advancing health equity through the collection and analysis of data such as race, ethnicity, and social determinants of health. CMS plans to focus on the development of quality reporting measures, enhanced methodologies for measuring and addressing health disparities, and using all of these to drive value in healthcare. Focus will also include ensuring every dollar spent is focused on addressing programmatic changes in an effort to close health equity gaps. One thing CMS noted was that all commenters on the rule expressed a common support for the promotion of health equity.
As part of the goal to advance initiatives to close the gap on health disparities, CMS requested input on the following specific topics:
How to improve the Medicare Advantage and Part D Star Ratings
How to incorporate factors related to health equity and social determinants of health into risk adjustment models
Considerations when assessing the geographic level of rate setting for ESRD beneficiaries and its potential implications for health equity
Included in the Rate Announcement are eight attachments that address the following:
Final estimates of the following are used to calculate the CY 2023 capitation rates:

National Per Capita MA Growth Percentage for CY 2023
National Medicare Fee-for-Service (FFS) Growth Percentage for CY 2023
National Per Capita Medicare Advantage (MA) Growth Percentage for CY 2023
National Medicare Fee-for-Service (FFS) Growth Percentage for CY 2023

Key assumptions and financial information behind growth percentages
CMS responses to Part C payment-related comments from the 2023 Advance Notice
CMS responses to Part D payment-related comments from the 2023 Advance Notice
Part D benefit parameters, including the details of how they are updated
CMS responses to comments on updates for MA and Part D Star Ratings
Economic information related to the CY 2023 Rate Announcement
Relative factors for the following two risk adjustment models:

2023 CMS-HCC ESRD
2023 RxHCC
The Rate Announcement also includes key updates such as growth percentages for both Medicare Advantage and Medicare Fee-For-Service (FFS) programs as well as the calculation of FFS costs. Policies that are published in the Advance Notice, but are not modified or retracted in the Rate Announcement, take effect in the upcoming calendar year. Any clarifications made in the final Rate Announcement will supercede those that were published in the Advance Notice. A complete listing of the policies to be adopted in CY 2023 are listed in the Rate Announcement as well. If you spent time in the Advance Notice, it is time to dig into the Rate Announcement to see what has become finalized for CY 2023.
###
Questions, comments?
If you have questions or comments about this article please contact us. Comments that provide additional related information may be added here by our Editors.
Latest articles: (any category)
Reporting Drug Wastage with Modifier JW and NEW Modifier JZ
August 15th, 2023 - Aimee Wilcox
Modifier JW has been around since 2003 with changes in Medicare policies to ensure standard utilization in 2017; however, because of a continued lack of reporting consistency, Medicare has created and implemented policy related to reporting a new modifier, JZ. How does this impact Medicare reimbursement and why is this modifier so important?
Finding Patterns of Complexity in the Medical Decision Making (MDM) Table
August 8th, 2023 - Aimee Wilcox
Changes to the Medical Decision Making (MDM) Table in 2023 reflect the work performed in the facility setting in addition to the work involved in Evaluation and Management (E/M) scoring in other places of service. Taking the time to really look closely at the MDM Table and identify patterns in wording and scoring helps coders to understand scoring in an easier way.
Seven Reasons to Standardize Medical Records
July 18th, 2023 - Aimee Wilcox
The standardization of medical records offers numerous benefits for healthcare systems, providers, and patients. By ensuring interoperability, improved workflows, better patient safety, supporting research endeavors, and optimizing resource allocation, standardized records contribute to improved efficiency, quality of care and especially patient outcomes. Here are seven reasons to standardize medical records.
Advancements in Coding Hospital Observation Care Services in 2023
July 4th, 2023 - Aimee Wilcox
Hospitals are increasingly adopting innovative solutions to improve patient care and optimize processes and many of these solutions follow immediately the recent CPT and Medicare coding changes.  In 2023 coding of hospital observation care services underwent significant changes enabling healthcare providers to accurately document and bill for the sick or injured patient that requires a higher level of medical services between the emergency room care and hospital admission. This article explores the key changes in coding hospital observation care services and their impact on healthcare delivery.
Be Aware — Emergency Department Visits Under OIG Scrutiny
June 20th, 2023 - Wyn Staheli
Every year the Department of Health & Human Services Office of Inspector General (OIG) creates an official work plan giving everyone a heads up as to what they are going to be reviewing. The 2022 Work Plan stated that they would be reviewing claims for Evaluation & Management services provided in an emergency department (ED) setting.
OIG Audit Reveals Diagnosis Reporting Problems Affecting Risk Adjustment Scoring
June 15th, 2023 - Wyn Staheli
The Office of the Inspector General (OIG) recently published their Spring 2023 Semiannual Report to Congress. This report contained some diagnoses reporting issues that all providers need to be aware of. They focused on several groups of diagnoses that they considered "High-Risk" for being miscoded. Several states were included in the report and the types of errors for all can be generally grouped into several categories.
Documenting for Suture and Staple Removal E/M Add-On Codes
May 30th, 2023 - Aimee Wilcox
Historically, the 10-day and 90-day global periods would include the patient's follow-up Evaluation and Management (E/M) services and any dressing changes or staple/suture removal related to the surgery; however, following a closer analysis of these and other surgery codes, the decision was made to make significant revisions to these codes to ensure proper reporting.